7 Choreographers
10 Composers
15 Designers and Technologists
50 Dancers
12 Crew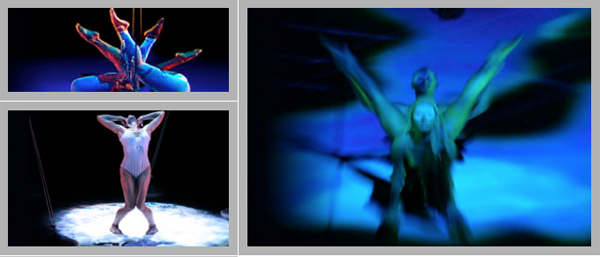 Artistic Director
Tim Glenn (FSU School of Dance)

Featured Choreographers
Karen Bell (Ohio State University)
Tim Glenn (FSU School of Dance)
Rick McCullough (FSU School of Dance)
Lindsay Meeks (FSU School of Dance)
Anthony Morgan (FSU School of Dance)
Alberto del Saz (Nikolais Dance Theatre)
Wallie Wolfgruber (SUNY Brockport)

Performers (see Program in The Final Product)

Composers
Giacomo Battarino (Italy)
Rob Eisenberg
Tim Glenn
Ted Kalmon
Alwin Nikolais
Sergi Rachmaninov
Jeffrey Rolf (FSU School of Dance)
Franz Schubert
Michael Strickland (FSU College of Music)
Mark Wingate (FSU College of Music)

Projection Designer
Tim Glenn

Music Directors
Jeffrey Rolf
Mark Wingate

Collaborative Musicians
Giacomo Battarino
Laura Cable
Douglas Corbin (FSU School of Dance)
Tim Glenn
John O'Neal
Jeffrey Rolf
Michael Strickland

Piano Performance
Giacomo Battarino

Lighting Designer
J. Russell Sandifer (FSU School of Dance)

Costume Designers
Ann Todd
Tim Glenn

Networking/Broadcast Engineers
Kelly Gottesman
Marc Ray (FSU School of Dance)

Media Artists
Kelly Gottesman
Tim Glenn
Marc Ray

Rehearsal Director
Lindsay Meeks

Vocalist
Holly Matyas (FSU School of Dance)

Documentation Director
Marc Ray

Costume Assistant
Currie Leggoe

Writing Consultant
Brandy T. Wilson

Hair and Make-up Artists
Erin Hickey
Mikki Whaley

Other Contributors
Doug Nowacek (FSU Department of Oceanography)
Jackie Fauls, Legislative Affairs Director (Florida Fish and Wildlife Conservation Commission)
Claudia Melrose, (University of Wisconsin-Madison)
Victoria Uris (Ohio State University)



Biographies (as of 2005)
Giacomo Battarino (Composer/Pianist) made his debut in Milan at the Circolo della Stampa, and he has performed as a soloist for important musical institutions in Italy: Gioventù Musicale d'Italia, Universita Bocconi in Milan, Chiostro del Bramante, Concerti nel Parco in Rome, Academia Musicale Barense in Bari, Circolo degli Artisti in Turin, Ass. Teatro Carlo Felice e Fondazione Costa in Genova, Auditorium Comunale in Cagliari, Liszt Institute in Bologna, and in Padova, Venice, La Spezia, etc. He also performed in Wiener Saal in Salzburg, Austria, Eglise Notre Dame in Besancon, France, Muzeul G.Enescu in Bucharest, Rumania, National Philharmonic Hall and Taikomosios dailes muziejus in Vilnius, Lithuania, Jecklin Forum in Zurich, Switzerland, Slovenian Philarmonic Hall in Ljubljana, Slovenia, Guarnerius Hall in Belgrade, Serbia and Montenegro. In April 2005 he will perform in Beijing and Shanghai, China. In the United States he performed solo recitals in Chicago (Preston Bradley Hall), Boston (E.Pickman Hall, First and Second Church), Cleveland, Los Angeles and several cities in Ohio. As member of Libera Musica, he performed at the SKC (Student Cultural Center) in Belgrade and in Helsinki, Finland. Future concerts are planned in Warsaw, Thessaloniki, Tel Aviv and New York. He played as soloist with orchestras such as J.Ch.Bach Orchestra of Genoa - in Italy and France (Mozart K488, Bach, Mendelssohn no.1, Chopin no. 1, conductor A.Gambula), and P.Constantinescu Symphony Orchestra of Ploiesti - in Romania (Ciaikovski no. 1, cond. I.Ionescu-Galati). In the United States he performed with the Contemporary Music Ensemble, Oberlin Chamber Orchestra (cond. G.Young) and Firelands Symphony Orchestra (cond. J.Santos-Perez). In February 2003 he toured Sandusky, Lorain, Toledo and Norwalk with the Firelands Symphony Orchestra and the Perrysburg Symphony Orchestra (Chopin no.1 and Gershwin's Rapsody in Blue). Among his collaborations with singers, he has played in masterclasses for famous artists such as Thomas Hampson, Barbara Bonney, Gaelyne Gabora, Luciana Serra and Elly Ameling and has worked with the International Vocal Arts Institute in New York. He also participated in a production of La Bohème with the FSO (2002), and The Nutcracker by Tchaikovsky with the Ohio Dance Theater (2002). Prizewinner of international piano competitions (most recently G.Rospigliosi Pistoia 1997, A.M.A. Calabria Lamezia Terme 1999, Los Angeles Liszt Competition 2000, Rina Sala Gallo Monza 2002, L.Gante Pordenone 2002, E.Porrino Cagliari 2002), he received first prize at the J.S.Bach in S.Levante 1992, Jupiter in Genoa, 1997, Trofeo Citta di Casarza Ligure 2000, the "European Music Competition" in Moncalieri, 2002, "Carpineti in Musica" 2003, Terme di Saturnia 2004 and Riviera Etrusca in Piombino 2004. Pupil of L.Ginanni, M.delli Ponti, V.Buzzai and S.Rutstein, Battarino completed his studies with full marks at the Conservatorio G.Verdi in Milan, Accademia Chigiana in Siena, Mozarteum in Salzburg, Accademia Ducale in Genoa and Oberlin Conservatory of Music. Battarino currently teaches piano at the Centro Studi Italiani in Urbania (PU), the Casalmaggiore International Festival in Casalmaggiore (Parma) and the Ducale Music Academy in Genoa, Italy. He is also a vocal coach at the Mozarteum Hochschule in Salzburg, Austria, working with Professor Richard Miller. Juror of international piano competitions, he was president of the jury of the First FSO International Music Competition in Sandusky (2004) and he is invited again in 2005. Recording labels include Philarmonia ("Liszt and Italy") and DeVega ("The Opera at the Piano", piano transcriptions from Puccini's La Bohème and Bizet's Carmen).

Karen Bell (Choreographer/Performer), Dean of the College of the Arts at Ohio State University, teaches modern technique, composition and dance resources to students in OSU's Department of Dance. She has served on the American College Dance Festival Association board for twelve years and was the Northeast Regional Representative for five. From 1991 to 1992, she was a Committee on Institutional Cooperation Academic Leadership Fellow and is currently an evaluator for the National Association of Schools of Dance (NASD). Professor Bell has performed as a freelance dancer in New York City and was a member of the Ithaca Dancemakers. She has been awarded an Ohio Arts Council Individual Artist Fellowship, College of the Arts Faculty Research Grants, and a University Small Grant. Professor Bell is currently working on an evening length performance exploring aging, specifically the 50 year mark.

Laura Cable (Musician) has a Bachelor's degree in Music Ed. from FSU ('86) and resides in Tallahassee, FL. She currently plays in the Tallahassee Winds, teaches private flute and voice lessons, and is the Instrumental Director at Northwoods Baptist Church.

Chris Cameron (Video Artist) is a BFA candidate in Studio Art at Florida State University. Dance, and more specifically the metaphorical capabilities inherent in body movement, have been and continue to be a source of inspiration and material for much of Cameron's work, both in the medium of video and drawing. He is interested in the documentation and re-presentation of performative events/actions through spatial and temporal recontextualization. His involvement with the dance department came about as the result of a desire for increased cross-department collaboration, as well as a need to work with trained dancers for recent video projects. Cameron has exhibited in local galleries around Tallahassee, and most recently was chosen to be included in the "VIBE (video in the built environment) Summer '05" project which was screened at public viewing spaces in Manchester, Liverpool, and Chicago.

Béatrice Corbin (Guest Performer) received her dance training in Zürich and Paris, in contemporary, ballet, jazz, yoga and Feldenkreis. She has danced in companies in her native Switzerland, as well as Germany, Paris and Hungary, and toured Europe, Africa, and Israel. Since moving to Tallahassee in 1996,she has danced in numerous productions of the FSU Department of Dance. Beatrice has been teaching ballet, contemporary, jazz, yoga, stretching and placement classes throughout her career. She is currently teaching locally as well as workshops in Switzerland.

Doug Corbin (Musician) holds BA and MA degrees form Hunter College, City University if New York. After early piano studies with with Dr. Claudette Valentine in his hometown Omaha, Nebraska, Doug moved to New York City, where he won widespread acclaim for his work with many major companies and schools, including the Alvin Ailey School, the School of American Ballet, the Martha Graham School, American Ballet Theatre, and many others. Doug continued piano studies with jazz pianist Joanne Brackeen and comoser Andrew Hill, and began teaching music at the City College of New York, Bronx Community College and Manhattan Community College. In 1995, Doug was invited by Merce Cunningham to provide music for the Cunningham company classes. He also accompanied Maya Plisetskaya's historic first master classes in New York City. His collaboration with tap dance legend Paul Draper was the subject of a PBS special, "Paul Draper on Tap." In Europe, Doug works at dance workshops such as Arena Summer Dance in Zürich, Henny Jüriens Stichting in Amsterdam, and the Bartolin Ballet Seminar in Copenhagen. He has lead workshops on music for dance throughout the U.S., Asia and Europe, and made more than twenty recordings of music for ballet class.

Alberto del Saz (Choreographer) is Artistic Director of the Murray Louis and Nikolais Dance Company as well as the Director of The Nikolais/Louis Foundation for Dance and Assistant to Mr. Louis. Mr. Del Saz is a vital and important link in keeping the Nikolais-Louis repertory active. Mr. Del Saz was born in Bilbao, Spain in 1960. At an early age he studied ice-skating, which later led to his first performing career. In 1980 Mr. Del Saz became the Spanish National Champion in figure skating and soon made his debut with Holiday on Ice-International. His early dance training was received at the Nikolais-Louis Dance Lab from the great teachers of the technique: Hanya Holm, Alwin Nikolais, Murray Louis, Claudia Gitelman, Tandy Beal, Beverly Blossom and others. In 1985 Mr. Del Saz made his debut as a lead soloist with the Nikolais Dance Theater, later renamed the Murray Louis and Nikolais Dance Company. As a member of this internationally acclaimed company he has toured to virtually every continent on the globe. Mr. Del Saz has appeared for President Reagan at the Kennedy Center Honors in a CBS telecast featuring the Nikolais Dance Theater as well as on PBS American Masters series in "Nik and Murray", an award winning documentary film by Christian Blackwood. He has also represented the United States State Department on a tour of India, appeared at the Paris Opera Garnier in a Homage to Alwin Nikolais and at the Next Wave Festival with Bill T. Jones and Arnie Zane Dance Company. In 1990 he went to Japan where he appeared as a guest artist in "V", a project by Mr. Ushio Amagatsu, Artistic Director of Sankai Juku. He has also performed at "Men Brazil". Mr. Del Saz has appeared as a guest solo artist in works by Hanya Holm, Claudia Gitelman, Maureen Fleming, Sara Pearson, Cleo Parker Robinson and others. Mr. Del Saz is the Reconstruction Director of the Nikolais/Louis repertory and has staged the Nikolais/Louis repertory on university and professional dance companies around the world. Among others: (North Carolina School of the Arts, The Juilliard School, Conservatoire de la Danse de Paris, Ririe-Woodbury Dance Co., The Joffrey Ballet of Chicago, Ballet Met, University of Washington, University of Illinois, Rutgers State University, Brigham Young University, Centre National de Danse Contemporaine in Angers, Southern Utah University, George Mason University, Boston Conservatory, University of Utah, Georgia Tech, Hunter College, Marymount Manhattan College, Barnard College, Montclair State University). In 1997 he danced Rudolph Nureyev's role in "Moments" a work created by Mr. Louis. Mr. Del Saz work has been funded by NYSCA in collaboration with Ice Theater of New York. He is currently choreographing for bronze medallist figure skater Nicole Bobek and Olympic bronze medalist and World Professional Champion Phillipe Candeloro. His Skating work has appeared on Ice-Wars, Grand Slam and the Professional World Championships televised on CBS, FOX and ABC networks as well as the official opening of the Rockefeller Center sponsored by Champions on Ice. Mr. Del Saz has been with the Nikolais/Louis Foundation for 20 years, at the moment his focus is in preserving the Nikolais/Louis technique, repertory and legacy through his teaching and directing.

Robert Eisenberg (Composer) is a graduate of Florida State University with degrees in Music Composition and Theory. He has done graduate work in these areas as well and spent further time in computer music research. Rob is currently a co-owner of Super Game Audio, a company specializing in audio for multimedia scenarios. Additionally, he is a freelance teacher and performer of percussion in the Tallahassee area. In his spare time he is doing software development and is a beta tester for various Creative Labs and Microsoft software solutions.

Tim Glenn (Artistic Director), Associate Professor of Dance at FSU, received his M.F.A. in Dance (Choreography and Technology) from The Ohio State University where, after earning his degree, he worked for the Department of Dance and the Advanced Computing Center for the Arts and Design. He is an alumnus of the University of Wisconsin–Madison (B.S. Dance, B.S. InterArts and Technology) where he taught modern dance and improvisation. Glenn is a former member of the Nikolais and Murray Louis Dance Company and is the Artistic Director of Performance Tech - Tim Glenn and Company. Most recently, Glenn has worked as video consultant for the Paul Taylor Dance Company and the Nikolais Dance Theatre. In 2004, he curated Dance on Camera, an International festival of dance films at FSU. His interests in dance technology include digital video, interface design, telematics, and multimedia theater. At FSU his work focuses on curriculum development and the application of technology specific to the field of dance. From 2001–2005 he served as Technology Director for the Maggie Allesee National Center for Choreography at FSU.

Kelly Gottesman (Dance & Media Artist) From 1989-1999 Gottesman performed and created new work for Dance Projects, a contemporary modern dance company located in Cincinnati, Ohio, and served as Co-Artistic Director from 1994-1999. His extensive performance credits include performances throughout the US and abroad including Germany and Ukraine. Over the past sixteen years, he has taught dance in a wide variety of settings including professional dance artists, K-12 public schools, higher education, and community outreach workshops. Gottesman holds a BFA in Dance from Ohio University, and an MFA in Dance Choreography & Technology from The Ohio State University. His research focuses on the use of advanced technologies in dance theatre performance including telematics (live Internet broadcast), interactive media, and processed video with movement in live performance. Gottesman currently holds a Lectureship in the Maggie Allesee Department of Dance where he teaches modern dance technique, choreography, introduction to dance, dance technology and directs the Wayne State University Dance Company.

Holly Matyas (Vocalist) is thrilled to collaborate as both vocalist and dancer with the professional team of artists contributing to Aqueous Myth. She is a third year MFA candidate at Florida State University and a graduate of Oberlin College, where she earned a Bachelor of Music in Vocal Performance and a Bachelor of Arts in Dance. Among her many achievements at Oberlin, she choreographed, danced and sang the role of Ida in Die Fledermaus and danced as a soloist under the direction of Catherine Turocy in the opera Le Pouvoir de l?Amour. She made her professional debut in Stephen Foster The Musical during the summer of 1999 and returned in 2001 to perform as Lucy LeMoyne, Matinee Jeanie and featured dancer. In addition to various solo and corps roles in 8 productions of The Nutcracker with Ohio Dance Theatre, the Walnut Street Lodge, and Ballet Theatre Ohio, Miss Matyas has performed the title role in the opera Starbird and Maria in West Side Story. She has also participated in various dance concerts, operas and musicals throughout Northeast Ohio, including chorus work with the Cleveland Opera and vocal collaboration with Morrison Dance Company.

Rick McCullough (Choreographer) is a visiting assistant professor of ballet at FSU and has professional experience that includes performing with the Netherlands Dance Theater from 1975 to 1984, with the Harkness Ballet from 1971 to 1975, and with the North Carolina Dance Theater from 1970 to 1971. He served as Ballet Master for the Pittsburgh Ballet Theatre from 1986 to 1988. He was also the Artistic Director of the North Carolina School of the Arts Summer Institute on Roanoke Island from 1998 to 2003. He received his BFA Degree from North Carolina School of the Arts in 1986, and he received his MFA Degree in Dance from UNC/Greensboro in 1995. He was an Assistant Professor at the University of North Carolina, Greensboro from 1995 to 2000. He has also taught at Ohio State University (2003), Western Michigan University (2000), the University of Utah (1996), the Metropolitan Opera Ballet (1995), the American Dance Festival (1994 and 1995), and the Pacific Northwest Ballet (1994). He has received five choreographic fellowships from the National Endowment for the Arts. He received second prize at the Tokyo International Choreography Competition in 1991 and a gold medal at the Boston International Choreography Competition in 1990. He describes his own work in the following: My choreographic style is varied. My ballet work is influenced by Kylian, Forsythe, Tetley, Van Manen, Christopher Bruce, and Balanchine. My modern work is informed by a generic release vocabulary of my own. I also work in community musical theater and have choreographed numerous operas.

Lindsay Meeks (Dancer, Choreographer, Rehearsal Director) graduated from Florida State University in 2003 with a BFA in dance. While studying at FSU she was invited to perform excerpts of "Romeo and Juliet" and "Apollo" with the Suzanne Farrell Dance Company. Lindsay has also performed works by Alonzo King, Sean Curran, and Brent Schneider, to name a few. Upon graduation, she performed with Adele Myers and Dancers in New York City. Ms. Meeks is currently crafting her own choreography for future projects while simultaneously working as dancer, choreographer, and rehearsal director with Aqueous Myth: Tales of a Water Planet.

Anthony Morgan (Choreographer) received his introduction to dance in Canada while completing a degree in Mechanical Engineering at Queen's University in Kingston, Ontario. Dance soon displaced engineering and he attended summer schools in dance at York University and Toronto Dance Theatre. From 1973 to 1976 he did the certificate program at The London School of Contemporary Dance where he danced in the Lecture Demonstration Group and later with Basic Space Dance Theatre touring throughout England, Scotland and Wales. Teachers who most influenced his work included Jane Dudley, Nina Fonaroff, Robert Cohan and, at Covent Garden, Johnny O'Brien. Then came the New York years. Anthony studied extensively at the Martha Graham and Alvin Ailey Schools as well as with Viola Farber, Jennifer Muller and others for modern dance and Finis Jung, David Howard and, especially, Alfredo Corvino for ballet. His contemporary dance technique classes are based on the techniques of Martha Graham, inflected by a sense of humour and spirituality. He danced with many companies including those of Martha Graham, Pearl Lang, Bertram Ross, Rudy Perez, Susan Marshall, Linda Diamond, Larry Richardson, Philip Grosser, Kelly Hogan, Artis Barry Smith and Judith Garay. One of his first dances while a student received an award for most promising choreographer. He first showed his choreography in New York City in 1978 and directed The Anthony Morgan Dance Company there from 1985 to 1992 at which time he relocated to Vancouver. In addition to touring engagements the company gave regular New York seasons and received numerous good reviews from the New York press. Anthony also choreographed and performed for "Double Dancing" a duet repertory with partner Judith Garay which has toured theatres from Miami to Calgary to Rotterdam. His dances have been performed by groups in London, UK, Dallas, TX, Mexico City, Brussels, Tallahassee, Jacksonville and Gainesville, FL, Lynchburg, VA and Vancouver. In 1997 Anthony produced, choreographed and performed in a short film Punctuated Equilibrium which played on Canadian television and screened at more than twenty international film festivals. He has taught at numerous schools and universities across North America in addition to teaching residencies in Mexico and Europe. Since 1983 he has been on faculty at Florida State University each Fall semester and since 1993 has been a frequent guest at Simon Fraser University and Main Dance Place in Vancouver, Canada. Now in his fifties, he continues an active life as a choreographer, dancer and rehearsal director.

John O'Neal (Musician) is currently a Master of Music in Percussion Performance degree candidate at The Florida State University College of Music. He holds a Bachelor of Music degree from the University of Kansas and has studied with John W. Parks, IV and the University of Kansas Professor Emeritus, George Boberg. While attending the University of Kansas, John was active in many performing organizations, including the KU Symphony Orchestra, KU Symphonic Band, KU Percussion Ensemble, Jazz Ensemble and the KU New Music Ensemble. Additionally, he was selected numerous times to perform upon the prestigious University of Kansas Undergraduate Honor Recitals. During his tenure at Florida State University, he has performed regularly with the University Symphony Orchestra, FSU Wind Orchestra, FSU Chamber Winds and the FSU Percussion Ensemble. John is a member of the Tallahassee Symphony Orchestra and has made appearances with the Topeka Symphony, performed on National Public Radio, and in 2004 was a guest soloist on the commercial recording entitled Dusk: Percussion Music from the Heartland. John has also performed on masterclasses with Evelyn Glennie, Michael Burritt, Andy Harnsberger, Kevin Bobo and Eric Hollenbeck.

Marc Ray (Network Engineer/Documentation Director) received his BS in Information Studies from Florida State University. He has been working in the computer networking and Internet development field for the past six years. His work has ranged from website programming to network administration and design. He also brings to the department his experience in digital video and documentary video production.

Jeffrey Rolf (Composer/Music Director/Audio Engineer) is the former Director of the Music Resource Center for the department of dance here at Florida State University. He has served as dance music faculty for The University of Akron in Ohio and as a rehearsal pianist for Ohio Ballet. He has also served as an associate musician for The Ohio State University Department of Dance and as a pianist for Columbus Ballet Met. Jeffrey was the Artist-in-Residence and served as music faculty at the Institute of Scandinavian Physical Culture in Viborg, Denmark. He currently serves on the community advisory board for Tallahassee Ballet and serves as the ballet's sound designer and recording engineer. Jeffrey also serves as technology director, sound designer and recording engineer for South Georgia Performing Arts and South Georgia Ballet.

Russell Sandifer (Lighting Designer) is our Faculty Production Manager and Lighting Designer. Russell also currently designs lighting for the Suzanne Farrell Ballet Company and has several designs in the repertory of the Urban Bush Women dance company. Over the last nineteen years he has designed over 75 productions for Seaside Music Theater in Daytona Beach. Additionally, he has designed lighting for the University of Georgia's Dance Department, the FSU School of Theatre, The FSU Opera Department, the Bay Area Civic Opera, and Tallahassee Ballet. Prior to these positions, Russell was the Production Manager and Lighting Designer for Ballet Mississippi and Mississippi Opera. He has also worked with the International Ballet Competition, Tommy Walker Productions, Warner Brothers and many others. He has experience in all facets of production management and technical theatre. Russell is a member of the Southeastern Theatre Conference, United States Institute for Technical Theatre, and a former I.A.T.S.E. stagehand.

Michael Strickland (Composer) comes with a wide variety of experience. He has a B.S in Physics, as well as over thirty additional hours of study in music and acoustics at Florida State University. He performs on numerous instruments, has over eight years of experience in the IT business including two professional certifications from Microsoft, (MCSE, MCSA), and has nine years experience composing and producing in his home studio. He has performed in, produced, or recorded several bands with a variety of instrumentations and styles over the years, as well as worked for local television and radio stations. In 1998, Michael scored the award-winning film Ethan Tuesday, a graduate film produced at one of the top film schools in the nation. Currently, he is employed as a staff musician for the FSU Department of Dance. He enjoys collaborative work at the university, especially opportunities for live recording with high quality musicians. Michael is currently a co-owner of Super Game Audio, a company specializing in audio for multimedia scenarios.

Ann Todd (Costume Designer) became the Resident Costume Designer for The Tallahassee Ballet in 1989. Her original designs range from the small ensemble pieces of An Evening of Music and Dance to the many different roles, like Mother Ginger, of The Nutcracker to the ballets of Dance for Spring. Her original costumes include Remembrance, On Hearing Haydn, Scherzo Sextet Plus One, Bolero, the gypsy costumes for Madeline's Gypsy Adventure, Malachite, as well as Coppelia and the premiere costumes of A Midsummer Night's Dream. Over the years several of Ann's creations have been used in FSU's Dance concerts, but Aqueous Myth is the first time Ann has designed a full concert for the Dance Department. Following Aqueous Myth, Ann's next big project for Spring 2006 is The Tallahassee Ballet's premiere of Beauty and the Beast.

Wallie Wolfgruber (Choreographer), Assistant Professor, Undergraduate Program Director, and DANSCORE Director at SUNY Brockport, danced in Munich, Germany, with the Jessica Iwanson Dance Company, and with the National Theater and Dance Energy, which she also co-founded. In New York, she performed with Keith Young Dance, Donald Byrd/The Group and the Ohad Naharin Dance Company before becoming a member of the Lar Lubovitch Dance Company in 1988. Co-founder and director of Salzburg Experimental Academy of Dance (SEAD) in Austria, she teaches, choreographs and performs internationally. She has also served as Lubovitch's choreographic assistant and worked with the Sung Soo Ahn Dance Company and 'Celebration of Dance,' a principal dancer collective directed by Daniel Baudendistel and Dwight Rhoden. Certified in the Trager Approach/Psychophysical Integration, she also holds an MFA in Dance from NYU Tisch School of Arts. She taught at Rutgers University and Wesleyan University before joining SUNY Brockport's Department of Dance. Her expertise is in modern dance and ballet techniques, choreography, and improvisations; her teaching is informed by her knowledge and understanding of various body therapies.

Mark Wingate (Composer/Music Director), Assistant Professor of Composition and director of the new center for electroacoustic music, came to FSU after having co-founded and directed the Electronic Arts Studio at Istanbul Technical University in Turkey. He earned the D.M.A. in composition from the University of Texas at Austin. He composed electronic music at EMS studios in Stockholm as a Fulbright Scholar to Sweden in 1994. He received a Travel Grant from the National Endowment for the Arts to Caracas, Venezuela, where he wrote theater music and was awarded an NEA Composer Fellowship in 1997. In 1999, Wingate was a recipient of the Prix de Rome in Music Composition from the American Academy in Rome. His electroacoustic works have received international acclaim at new music festivals such as ISCM (International Society for Contemporary Music) World Music Days, Copenhagen and London, the "Warsaw Autumn" International Festival of Contemporary Music, and others. Dr. Wingate's compositions have garnered prizes and honors from international juried competitions such as the Stockholm Electronic Arts Award, the "Prix de la Musique Electroacoustique Caractère," Bourges, France, and Prix Ars Electronica in Austria. His music has been recorded on Centaur Records, empreintes DIGITALES Records, and Mnémosyne Musique Média Records UNESCO/CIME.


banner photos by Jon Nalon